The team behind Kotei Kobayashi's television anime adaptation of the light novel series The Vexations of a Shut-In Vampire Princess released a promo video on Friday and announced the series will premiere in October. The cast includes Fairouz Ai as Nelia Cunningham, Miyuri Shimabukuro as Karla Amatsu, and Manaka Iwami as Sakuna Memoir. The anime stars Tomori Kusunoki as Terakomari Gandesblood, Sayumi Suzushiro as Villhaze, and Yōko Hikasa as Karen Helvetius.
By clicking the "Play" button, you agree to the privacy policy.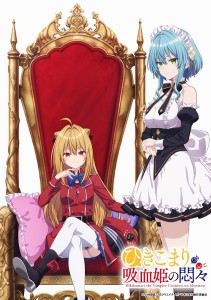 Tatsuma Minamikawa, known for "Wave, Listen to Me!" and "Fire Force", directing the series from Project No.9. Keiichirō Ōchi is in charge of composing the series, Tomoyuki Shimoya is designing the characters, and Gō Shiina is composing the music.
The light novels follow the captive vampire Terakomari, or Komari for short, who, despite her own shortcomings, must lead a rebellious force. The story tells how Komari achieves success with the help of her faithful maid.
The first volume of the Riichu-illustrated light novel was released in January 2020, and the tenth volume was released on January 25, 2023. Riichu also published a manga adaptation in Square Enix's Big Gangan magazine in December 2021, with the second volume coming out on January 25, 2023. With the anime adaptation premiering in October, fans can look forward to discovering Komari's adventures on to follow the screen.