Anime fans are gearing up for the much-anticipated premiere of Hajime Komoto's "Mashle: Magic and Muscles" on April 7th. The recent preview featured the full promo, second key visual, additional cast and staff, and title track artists.
By clicking the "Play" button, you agree to the privacy policy.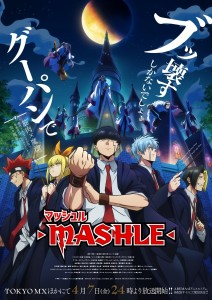 New cast members include Yuuki Kaji, Yuichiro Umehara and Hiroki Nanami, who will play Rayne Ames, Abel Walker and Abyss Razor. Major additions include Saki Hisamatsu and Nozomi Goto as sub-character designers, and Takeshi Matsuda and Hiroaki Gōda as action directors.
The opening theme "Knock Out" is sung by Taiiku Okazaki, while the closing theme "Shū Cream Funk" (Cream Puff Funk) is performed by the music group Philosophy no Dance.
Voice actors include Chiaki Kobayashi, Reiji Kawashima, Kaito Ishikawa, Takuya Eguchi, Reina Ueda and Hiroaki Hirata.
Directed by A-1 Pictures' Tomonari Tanaka, the script is written by Yousuke Kuroda and character design by Hisashi Higashijima. The music is by Masaru Yokoyama.
Described as a "full" anime adaptation, the "Mashle: Magic and Muscles" series is set in a world where magic is used for everything. The story follows a young man who cannot use magic but enjoys a peaceful life with his father until his life is in danger. The series first appeared in Weekly Shonen Jump magazine in January 2020 and has since expanded to include two novels and an upcoming stage adaptation.